For over twenty years, I've written nonfiction and have become set in my ways, following techniques I learned in college to write research papers, mixed with my own anal organization skills to complete a job. I won't bore you with the details of this process, but I will mention that I originally used this method to write fiction. It didn't work.
Now, transitioning from a full-time nonfiction writer to a full-time fiction writer is one of the greatest challenges in my career. Sure I've gotten plenty of advice from other writers. Have also read lots of good and bad books on writing fiction—thank God for the library. Unfortunately, my search for just the right steps to write fiction still haven't come together for me yet.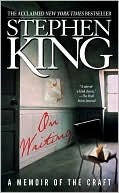 I thought I might of found my routine when I read
On Writing
by Stephen King, and the lightbulb above my head turned on. Unfortunately, it appears to have a dimmer switch.
Incidentally, a few of my other favorite books on novel writing are Manuscript Makeover by Elizabeth Lyon and How to Write a Damn Good Novel by James N. Frey.
Mr. King makes it simple when he says forget everything you've learned and just sit down and write your first draft, committing to writing at least 2000 new words a day with no editing. So I tried it. Finally, after ten years of planning, I finish my first novel in four months but changed just about everything I'd previously written. Then the second novel spilled out of my head in a month. Eureka! He's brilliant...or so I thought.
I started editing the first novel two months after it sat untouched, just like Mr. King does. He also starts a new story and continues to write new words daily. This was easy enough, considering I had worked on editing short stories while I wrote the second novel. But silly me decided to change it up a bit. And so began the telling of
The Courier
in a serial Twitter novel, which started out to include writing and editing a new part daily, along with editing the first novel.
When you break the rules, you inevitably create obstacles, and boy did I create some major stumbling blocks. I've basically come full circle. You see, I stated writing
The Courier
as an experiment, not expecting it to become more than fun to read novella. Seven months later it has turned into a series of short novels that comically poke fun at corporations and organized religion (boy is that guna piss off a few people). By the way, the editing of that first novel got dropped months ago.
I've had to return to my research writing roots to create an elaborate corporate structure of angels and demons, while also planning out second, third, forth, etc. sequels. Also mix in my recent discovery that comedy writing follows rules...huh??
Now go back to my first paragraph...my nonfiction writing process doesn't work for my fiction writing. Damn it...my head is spinning!
The best thing I've ever done was start a journal, twenty some years ago, for all the story ideas that come to me. I average between five to ten new ideas a month, some good and some horrible. I've got enough material to last a couple hundred years. Is there any way I can will them to myself in another lifetime?
So here I end this weeks post with a beginning, me trying to bring organization to my chaos. I can't tell you where I'm headed, but you can drop by
my blog
on Mondays (seems a appropriate day of the week to whine) and read more about my journey to figure out yet another process for writing fiction.